Welcome to Kauai County Farm Bureau's website.
Affiliated with the Hawaii Farm Bureau Federation and the American Farm Bureau, Kauai County Farm Bureau is a grassroots member based non-profit organization of farming families and friends of farmers united for the purpose of analyzing problems and formulating action to ensure the future of agriculture, promoting the well-being of farming and enhancing the local economy. Please contact us to find out more about Kauai County Farm Bureau and to join us in supporting Kauai farmers.
News & Announcements
HTFFA Scholarship
A $1000 scholarship to be awarded to a Kauai resident who is either an undergraduate or graduate student studying an agricultural-related field. 2021 Garden Fair - Cancelled

2021 Agricultural & Environmental Awareness Day - Cancelled

2021 Annual Membership Meeting - TBA

Monday Pau Hana Market - Mondays from 3pm - backside of Kukui Grove, across from Costco in Lihue

Kauai Culinary Market - Wednesdays from 3:30 - 6:00 pm (Poipu)

News Archive »
Contact Us Address: Box 3895, Lihue, HI 96766
Phone: (808) 855-5429
Email: admin@kauaicountyfarmbureau.org
URL: kauaicountyfarmbureau.org
Membership When you become a member of Kauai County Farm Bureau, you are also a member of Hawaii Farm Bureau Federation representing counties statewide.

For more about HFBF, as well as membership information and application, please visit hfbf.org.
Legislative Farm Bureau is a way that farmers work together on a local, state and national level to highlight and raise issues that are critical to agriculture. For more information on HFBF legislative priorities and work, please visit hfbf.org.
ELECTION RESULTS PRESS RELEASE - August 31, 2020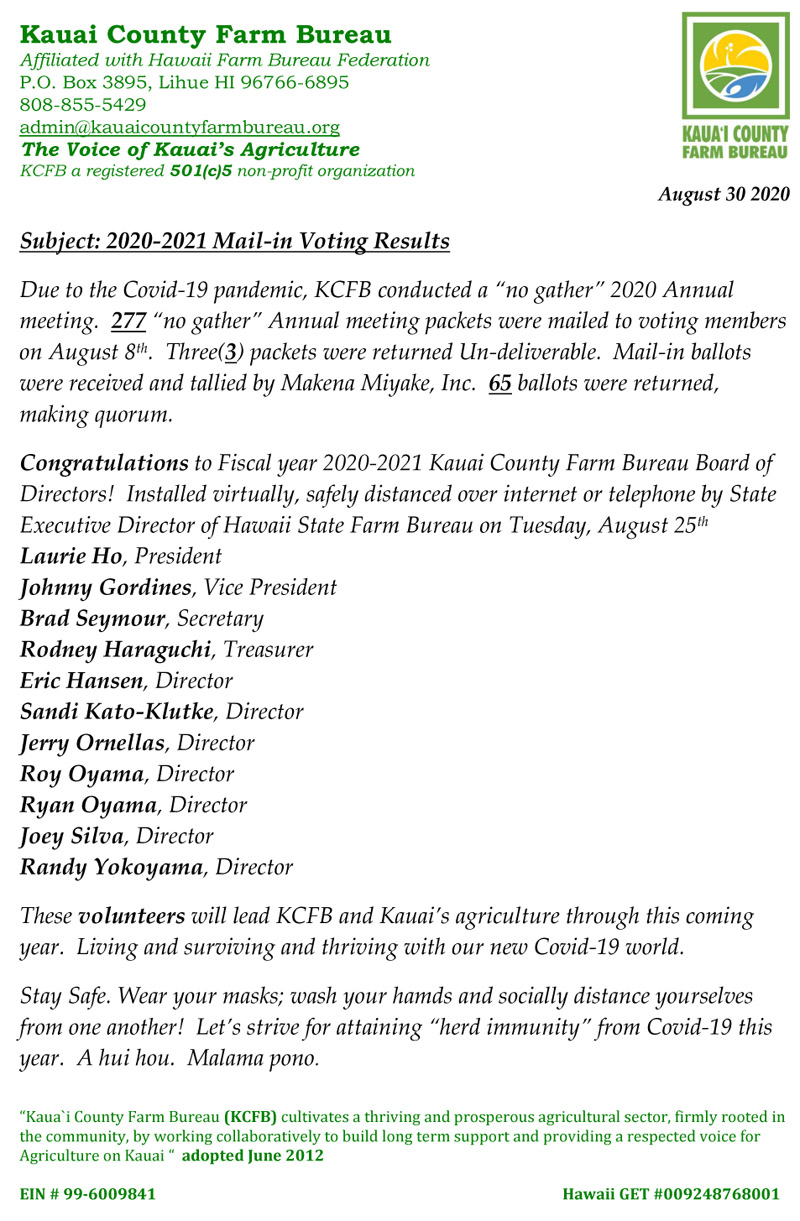 TRYEATHAWAII PRESS RELEASE - March 22nd, 2020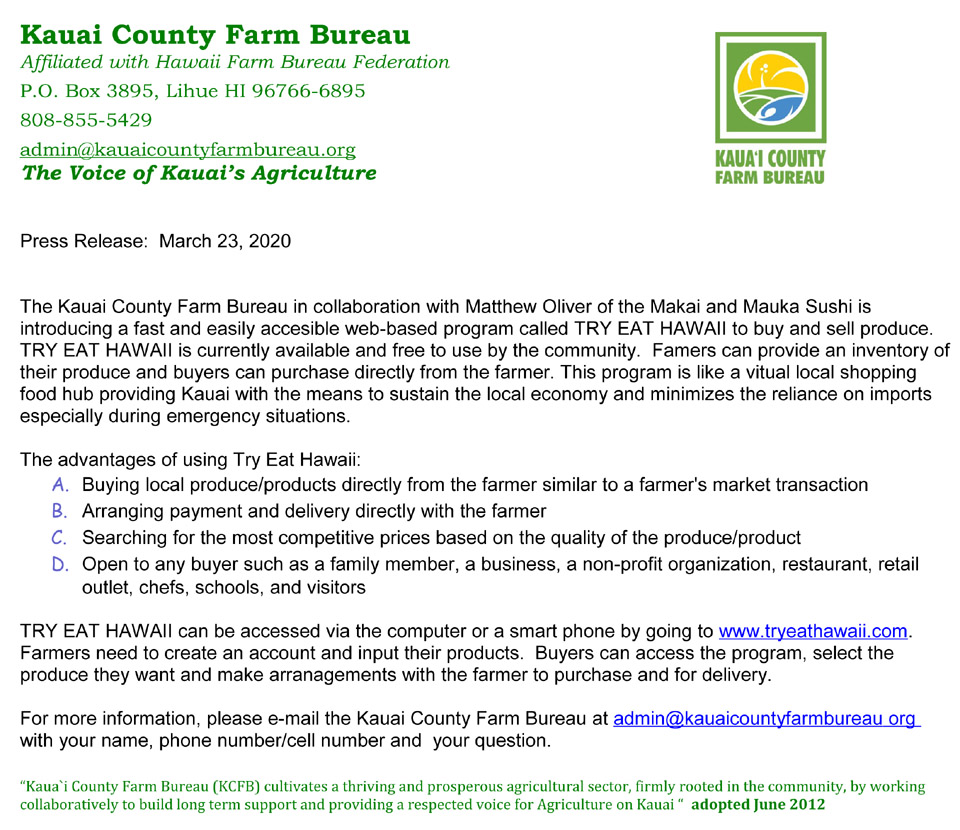 PRESS RELEASE - March 20th, 2020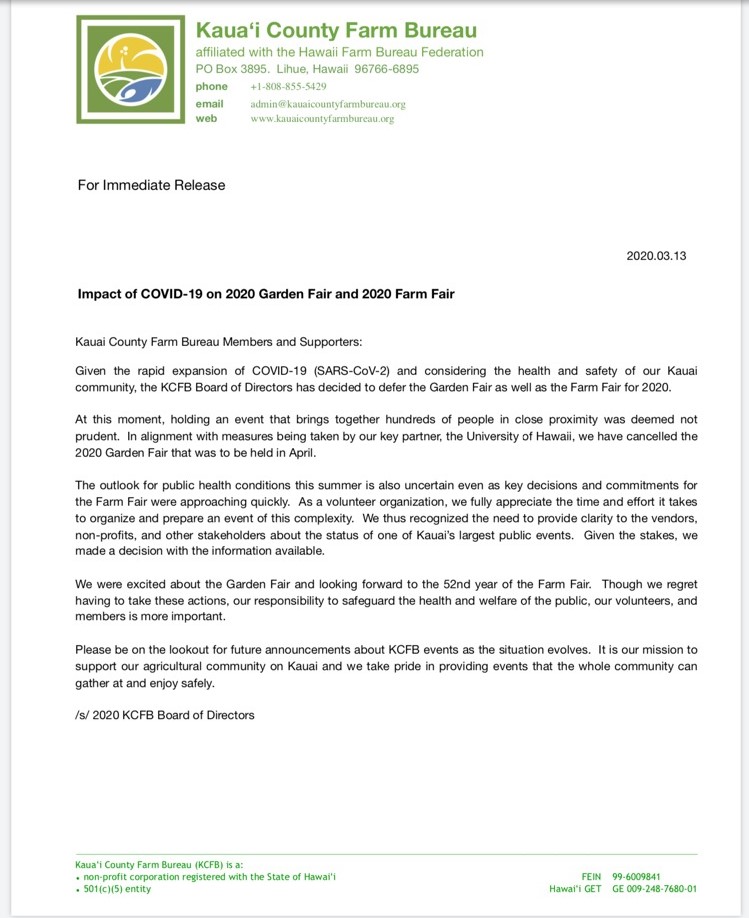 MARKET MEMO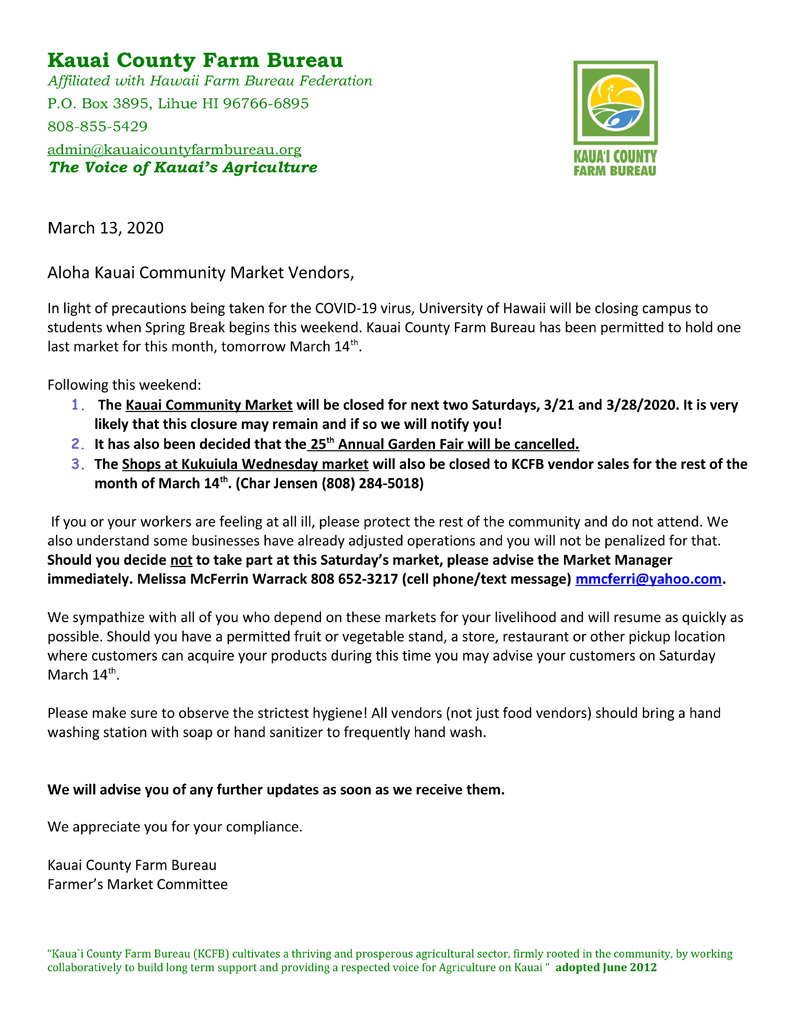 October 30 2019, Royal Lahaina Resort, Hawaii Farm Bureau (HFB) recognized Valerie Kaneshiro of Kanashiro Farms as Outstanding Active Member. Valerie Kaneshiro has been a strong supporter of the Hawaii Pork Industry and through her research and development providing swine breeding stock suited for Hawaii's climate and conditions. Kaneshiro Farms has provided high quality pork products to the residents of the State of Hawaii for many many years.
Left to right: KCFB President, Johnny Gordines, HFB Executive Director, Brian Miyamoto, KCFB Treasurer Laurie Ho, HFB Honoree Valerie Kaneshiro, and HFB President Randy Cabral
---
Click to view the Garden Fair Tabloid
Scholarship Recipients for 2020
Braeden Yokoyama (L) who received his KCFB Farm Family Scholarship ahead of heading to school at Arizona State University for his study in accounting. Prior to leaving for college, Braeden grew up volunteering with his father at various KCFB evens like the annual Kaua'i County Farm Bureau Fair, the Garden Fair, and the Kaua'i Community Market at the Kaua'i Community College.
2019 KCFB Scholarship Recipients
(left to right):
Kira Pimental (R) receives the KCFB college graduate study scholarship after graduating from the University of Hawai'i-Hilo with a Bachelor of Science in Agriculture with a focus in Pre-Veterinary Medicine. She will be leaving for the Oregon State University's College of Veterinary Medicine later this fall.
Kauai Grown In cooperation with the County of Kauai, Kauai Grown is our latest program to brand and market Kauai agricultural products, and recognizes those retailers and restaurants that support our farmers. For more information, visit kauaigrown.org
Support us weekly at these farmers markets:
Kauai Community Market's Annual Holiday Fair! (Cancelled)

Purchase Kauai Grown products at our two weekly farmers markets. More Info »
» Kauai Culinary Market, Wednesdays in Poipu
» Monday Pau Hana Market, 3pm - back side of Kukui Grove, across from Costco. Lihue.
Annual Programs Kauai County Farm Bureau organizes several programs and events each year to share agriculture with our community and support area farmers:
Annual Members Meeting & Board of Directors' Elections
TBA
Held every summer for fellowship and information exchange. New members and guests welcome!
Kauai County Farm Bureau Fair
Cancelled for 2021
23rd Annual Agriculture & Environmental Awareness Day An annual "Ag in the Classroom" program for Kauai 5th graders held each May, in partnership with University of Hawaii College of Tropical Agriculture & Human Resources (CTAHR).
Cancelled
Ag Scholarship Program
Six scholarships available to support students of agriculture and farm families.
KCFB scholarships
Deadline: May 3rd, 2021
Farmers Markets Kauai County Farm Bureau currently hosts two value added farmers markets in conjunction with our island partners. Support our Kauai farmers and the small businesses that support them at these weekly Markets featuring Kauai Grown products.
Kauai Community Market, a cooperation with Kauai Community College, is a weekly Saturday farmers market in central Lihue featuring Kauai Grown items from Hanalei to Kekaha - fresh flowers, produce, tropical fruits, plants, seeds and starts, and a wide range of value added products fresh from the farm – honeys, goat cheese, local coffees, variety of baked goods, chocolate covered bananas, kim chee, spices, treats and more.
Sample local foods and ono plate lunches and breakfast items weekly. Plus find out more about growing your own with KCC sustainable agriculture programs.
For featured vendors, special programs and market application, visit
kauaicommunitymarket.org
.
Kauai Culinary Market, a cooperation with Shops at Kukui'ula, is a weekly afternoon farmers market offering fresh tropical fruits, flowers, value added farm products like goat cheese, honey, coffee, plus variety of local treats inside the beautiful landscaped Shops at Kukui'ula shopping destination.
Held Wednesday afternoons with a "pau hana" atmosphere, the market features Hawaiian music, a weekly cooking demonstration, baked goods by Living Foods market, and a beer and wine garden by Merriman's.
»
Download market application
» Visit
kauaicommunitymarket.or
for information.